User login
Frontpage Sponsor
Poll
As a Customer What would do to keep your ERP Implementation intact
Proactively define Business Process-- Take the Project Ownership
50%
Handover everything to System Integrator from drawing BP till implementation of ERP
0%
Hire more inhouse skilled & capable IT Resource to work directly with SI
50%
Rely on SI Architects/Consultants
0%
Total votes: 4
Baanboard at LinkedIn
By pritivandana at 6 Dec 2010 - 15:38
Sep 01, 2010: One of the leading Partners to Infor, Merino Services Ltd( MSL), announced signing Hitachi Metglas India Pvt Ltd a subsidiary to Hitachi India Pvt Ltd for integrating Baan IV c4 system with SAP. The objective of the integration is to ensure seamless flow of information / data from their Baan IV c4 to currently running SAP System used as the financial tool in the organization. As per Hitachi's global standardization they are putting SAP as a standard system for managing financials, present ERP system of Hitachi India will be integrated with SAP financials as part of the global standardization. Hitachi will still continue to use Baan IV c4 as ERP solution.
Hitachi chose MSL as a Partner to progress for this project after a rigorous evaluation on delivery capabilities and track record for successfully carrying out similar projects in past. The project is expected to go live by the end of the year 2010 and Merino will extend its support post go live as a commitment of ensuring success.
About Hitachi Metglas India Pvt. Ltd
By patvdv at 23 Oct 2010 - 23:00
About our expertise in web services and SOA
CAD, PDM and ERP systems are often operated as satellite solutions in software environments. This tends to result in data exchange gaps between the engineering department (product data in the CAD and PDM system) and the business planning department (logistics data in the ERP system) and hence a data inconsistency and a high error rate.
The solution is to use web services. These services are responsible for data exchange between BaaN IV, BaaN 5, Infor ERPLN and third party applications (such as SolidWorks® Enterprise PDM, BDE from Interflex etc.) and carry out predefined tasks of the business logic
The big advantage is the universal use of individual web services, if the integrated business logic is required for other processes.
 
SIGMA is your partner for web services. SIGMA Chemnitz GmbH has developed a range of web services that contain basic business processes.
For example:
By vinceco252 at 19 Oct 2010 - 15:55
Have you thought about upgrading to LN but don't know where to begin?
Are you tired of demos where you can't play in the sandbox?
Do you want to see other Baan users this year?
OST is partnering with the MOSAIC Baan/LN User Group for a 3-day ERP LN Lab February 8-10, 2011 to provide a hands-on ERP LN experience.
Registration is $900 per user for the hands-on lab, or, if you'd prefer a hands-free experience, $500 to attend the presentations and networking sessions.
So grab your team and register at http://lnlab.eventbrite.com!
Here's what others have said about the upgrade experience:
"I can assure you that your approach is exactly what we are looking for from a partner organization… We are excited to move forward with implementing LN and will be working with our internal folks to get them on the bandwagon. You folks have taken a lot of stress off of us while helping us move forward and I can certainly see opportunity for us to work together in the future…"
By george7a at 10 Sep 2010 - 10:49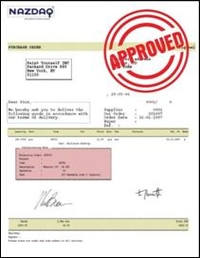 While you can manage your corporate files from within Baan and ERP Ln sessions, you can also send these files when you deliver your ERP documents to your business partners.
 
As an example, when you e-mail your purchase orders using Baan Mail-Merge, it will produce individual personalized e-mail messages for each order, and can possibly include selected attachments for all items in every order that are defined using Baan Hot Link.
 
If you need multiple signatures before e-mailing your purchase orders, this is also integrated in the same process with the Purchase Order Approval Extension.
Check our site today for the latest about our tools for Baan and ERP Ln. in www.nazdaq-it.com
By vinceco252 at 12 Aug 2010 - 16:25
OST is partnering with the MOSAIC Baan/LN User Group in planning a 3-day ERP LN Lab in October to provide hands-on ERP LN experience.  OST has hosted similar events in the past and the attendees loved it!


Each company attending will have an LN company with some of their OWN data to use for the lab.


We are trying to determine the interest in the event so we can meet everyone's expectations.  It would help greatly if you would answer the following questions:
Are you, or is anyone in your company, interested in attending an event like this?
Do you prefer a single track for all topics that everyone can attend, or separate tracks such as finance, logistics, and tools?
Do you consider $1000 per attendee, or $2500 for a 3 person team from a company, a reasonable price for attending?
How many people from your company do you think would attend?
What specific topics would you like to see covered?

We look forward to hearing from you (and seeing you in October)!

Please contact Vince Murphy at vmurphy@ostusa.com with any questions.
By rishibansal at 27 Jul 2010 - 05:49
Windermere, FL United States of America and Dubai, UAE - July 16, 2010, ITWARE LLC, Dubai, UAE a long time Infor ERP channel partner and service provider for Infor customers in ME Region (ITWARE) and Merino Consulting Services one of the largest Infor ERP LN/ Baan partners (MERINO) today with presence across Asia Pacific , EMEA and America's announced strategic alliance to dominate the Middle Eastern market with Infor Business Solutions
Strategic Alliance is driven by the complementing strengths of the two organizations. ITWARE with strong local presence in Middle East with years of experience in working with Baan / ERP LN customers in the region which brings strong local flavour to the relationship, while MERINO with its one of the largest Baan / ERP LN teams, strong delivery strengths, proven On Site/ Off Site/ Off Shore Delivery Model and Global experience makes this alliance as compelling option for existing and new customers for Baan and ERP LN.
By george7a at 11 Jun 2010 - 09:39
Easily link to corporate documents from within Baan Sessions
Automatically E-mail and Fax Purchase Orders and Invoices
Electronically approve Purchase Orders with multiple signatures
Smartly convert Baan Reports to Excel, Word, PDF, ASCII, XML and HTML
Seamlessly E-mail Baan reports in six different formats in a cron job
Interactively E-mail Baan reports in six different formats
Effortlessly notify the next person in line to update a certain Baan record
Intuitively write queries to grab data from your Baan database
Confidently know your current company by coloring sessions
By Marc Jenkins at 13 May 2010 - 16:04
Promethean, the company who invented interactive whiteboards for schools have moved away from paper based business processing to faster e-enabled systems, by integrating AutoFORM LaserNet Output and Document Management technology with INFOR ERP-LN. In doing so, Promethean is expecting to cut costs by at least £50,000 per year.
The cost reductions have been achieved by:
By patvdv at 13 May 2010 - 15:48
As a result of feedback from several of our US and European clients who've provided their input following enhancements have been added to the program's functions:
Multi-user Mode
User and administrators can now create a "back-end" Planning Dashboard instance that centralizes the ERP system data. Many "front end" Planning Dashboard instances can be spawned to refer to this single "back end" version. And only one data refresh to the "back end" is required.
Unattended Data Refresh
The data in the "back end" Planning Dashboard instance can be refreshed in an unattended mode. Using standard Windows functionality, "appropriately quiet" times can be chosen to refresh the ERP data.
Improved Calibration
In addition to the new function to spawn "front end" Planning Dashboard instances, the calibration routines have been fortified. Problems where the routines failed to properly calibrate have been corrected.
Some Baan systems have customizations or localizations that cause the calibration or data load to fail. Please contact us if this occurs at your site. It will be our pleasure to correct the problem or adapt the Planning Dashboard tool to your specific environment.
By rishibansal at 25 Feb 2010 - 20:34
Merino Consulting Services Inc (MCS), a US subsidiary of an India-based Infor Channel Partner, today announced it has signed up as an Infor Channel Partner in North America. Merino started its US Entity in year 2009, as a part of a global expansion initiative.
The initial focus of MCS will be in the South East Region of the US,  including Florida, Georgia, North Carolina, South Carolina, Alabama, and Tennessee. Over a period of time MCS plans to expand its geographic coverage across North America.
Merino shall be concentrating its core strengths on Infor ERP LN and focus of sales initiatives will be on ERP LN and complementary Infor solutions. Merino has strong experience in delivering end-to-end implementations as well as managing and supporting existing implementations on ERP LN across various industry verticals like Automotive, Industrial Equipment & Machinery, Hi Tech Electronics, Projects, Textiles, etc.