User login
Frontpage Sponsor
Poll
As a Customer What would do to keep your ERP Implementation intact
Proactively define Business Process-- Take the Project Ownership
100%
Handover everything to System Integrator from drawing BP till implementation of ERP
0%
Hire more inhouse skilled & capable IT Resource to work directly with SI
0%
Rely on SI Architects/Consultants
0%
Total votes: 1
Baanboard at LinkedIn
By george7a at 7 Feb 2012 - 09:55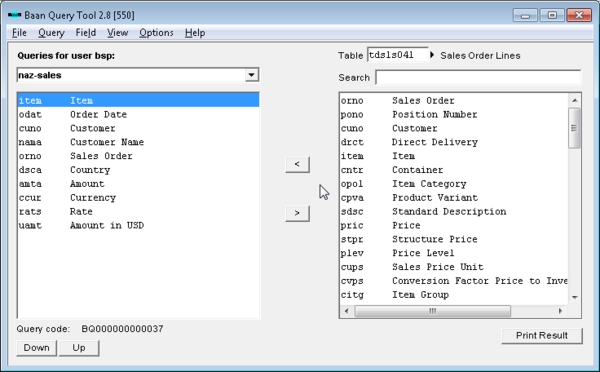 Baan Query Tool 2.8 Released - NAZDAQ

Easy and Quick to install
Friendly User Interface
Native to Baan. Quick, understands enumerated, arrays and text fields
Supports wide reports with more than 255 characters
Supports calculated fields and Group-by for subtotals
Runs on Desktop and WebTop
Obtain a 30 day fully operational demo today. Once you try it, you will wonder how you managed without it before!
NAZDAQ has also released a video presentation for Baan Query Tool:
By patvdv at 17 Jan 2012 - 07:33
High-end ERP documents, Microsoft integrated, document design and distribution, flexible, powerful, cost saving!
Unique 100% integration with ERP, irrespective of ERP versions, upgrades and service packs, ensuring no unnecessary programming
Fast: a completely laid-out usable document in just one day
Surprisingly simple in regard to implementation and use: installed within an hour. No expensive consultants in the company for weeks on end.
The next HiDOX Webinars:
HiDOX Webinars:  Why HiDOX FormDesigner?  How to build a Report from scratch? How to convert your existing and adjusted LN/Baan Reports to HiDOX FormDesigner?
We present HiDOX FormDesigner live in LN or Baan IV/V!
Next Webinars:
By Samantha Carter at 5 Dec 2011 - 07:29
Infor are actively recruiting new Channel Partners to join the Infor Partner Network.  To find out more visit :
By george7a at 18 May 2011 - 15:28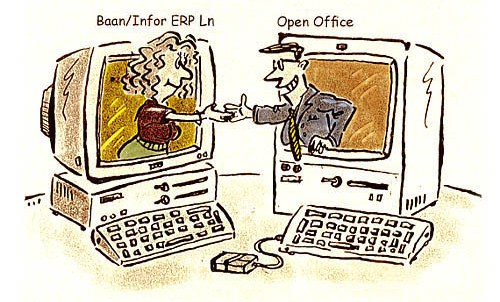 Do you wish to convert Baan/Infor ERP Ln reports to spreadsheets in Open Office? Or on a UNIX machine? Do you wish to run a cron job to reports in Excel format?
 
NAZDAQ now support converting reports to Open Office and creating Excel sheets (xls or xlsx files) on any machine, including UNIX and Linux, and even in a cron job!
The new features are now available in our products B2Email Plus (for interactive use) and B2Email Standard (for automatic use and jobs).
 
Additional features were added to these products. For more details, please check our web site at www.nazdaq-it.com
By Jonathan Gross at 11 May 2011 - 15:03
Pemeco Consulting recently delivered a custom supply chain training seminar to Natus Medical. Natus flew in personnel from around the globe to attend our three-day training session on planning and scheduling using Baan V. Here's what Jill Bartolic, Natus' Senior Director of Operations, says:
 "Pemeco gets Supply Chain and Baan. They provided our senior planning management and staff with an excellent Planning Seminar that was customized to our business needs and system setup. Our department will certainly improve its productivity and efficiency as a result. I would highly recommend this seminar to any company that's looking to improve planning and scheduling accuracy."
By vkpacc at 8 May 2011 - 14:16
Tikhvin Railway Car Building Plant (TVSZ, www.tvsz.ru) started to implement the information enterprise resource planning system ERP LN developed by the leading provider of integrated solutions for the enterprises of Infor. IPL Consulting was appointed as the project consultants.
Implementing the advanced ERP-system at the construction stage will allow developing a modern effective Enterprise Resource Planning system as a whole at TVSZ, its divisions and associated organizations.
Integrated system solution will ensure support of business processes via all divisions of a new car building plant, including production, sales, procurement, finance, inventory management, logistics and aftersales service, fully meeting the modern standards on engineering enterprise resource planning.
Source: Russian Transport Daily Report
6.12.2010 16:50
By pritivandana at 28 Apr 2011 - 06:12
Integration of Baan IV c4 with SAP enables Hitachi to have seamless flow of financial data.
April, 2011 - Infor's largest partner for ERP LN/ Baan, Merino Services has announced successful completion of a challenging project of Integrating Baan IV c4 with SAP for Hitachi Metglas India. As per Hitachi's global standardization they had put SAP as a standard system for managing financials and Hitachi Metglas India had decided to integrate the current Baan IV c4 the current ERP system with SAP financials.
Hitachi is using Baan IV c4 to support their Distribution, Manufacturing and with the completion of the project they have seamless flow of financial information / data from their Baan IV c4 to the SAP System. The project has ensured Hitachi 100% integration while respecting business rules and data security on both the systems.
By patvdv at 27 Apr 2011 - 10:02
As an Infor ERP Baan/LN customer, you're invited to join us for the first Monthly ERP Baan/LN Hour.
The agenda for this call:
Review of the new monthly calls
Infor product strategy discussion and direction
New Workspace user interface demonstration
Open Q&A
There will be two dial-in opportunities for the May 10 call; everyone is welcome to attend either call:
By pritivandana at 15 Mar 2011 - 13:43
Merino Services to help Gold Square Sales deploy Infor ERP LN ,an application with single interface to efficiently manage and control operations, monitor, analyse and evaluate its 3 business entities.
March , 2011 – Infor's largest and most successful  partner for ERP LN/ Baan, Merino Services , announces Gold Square Sales India Pvt  Ltd has chosen Merino Services to deploy Infor ERP LN at their organization . The organization is market leader in  Indian e-retailing. They have got 3 entities in the same business line which includes Fashion and You, Deals and You, Shoes and You.
The project is expected to bring a single interface to efficiently manage and control operations, monitor, analyse and evaluate the group's 3 entities Fashion and You, Deals and You, Shoes and You, in same line of business of e - retailing. Through this implementation, the company is looking at achieving seamless Integration of online order booking with the finance module which involves huge volume of transactions. On the technical side, the company is looking at integrating other specific solutions like Infor Warehouse Management System and Infor Customer Relationship Management integrated with Infor ERP LN.
By patvdv at 6 Mar 2011 - 14:59
Webinar 1: Thursday, March 10, 2011, 1PM–2PM ET
Webinar 2: Wednesday, March 16, 2011, 11AM–NOON ET
Webinar 3: Tuesday, March 22, 2011, 11AM–NOON ET
Think back to when you implemented Infor ERP Baan: Your business was a lot simpler then, wasn't it? With global business demands, rapidly changing processes, and rigid compliance rules, it's a lot harder to keep up today. What if you could meet new business challenges without re-engineering old software?
With Infor ERP LN, you get the most up-to-date ERP technology that keeps you competitive in today's market. With a customizable user experience, great integration to third parties, and the ability to run in real time, you'll get what you've been waiting for—without re-engineering.
Join us for a three-part webinar series and see how ERP LN can get you back in the game. You can find more information here: http://media.infor.com/marketing/webservices/email/campaigns/WW-ALL-ALL-ERP-0211-BAAN-LN-WEBINARS-OBEM7.html