User login
Frontpage Sponsor
Google search
Poll
What version of Baan have you installed
Baan IV
30%
FP3
3%
FP4
0%
FP5
1%
FP6
3%
FP7
4%
10.2 (incl. 10.2.1)
3%
10.3
6%
10.4
19%
10.5
29%
Other
2%
Total votes: 97
Baanboard at LinkedIn
By SiRfHuM at 12 Feb 2013 - 18:10
TADE  Infotech is established in 2012 in the Philippines, it is certified channel partner of Infor Philippines, Singapore, we providing ERP and IT services. Our partners are very experienced Infor services providers, together we have 35 years of experience implementing Infor around the world, in the Philippines, Malaysia, India and  in the Middle East, Saudi Arabia, UAE, and Bahrain.  Infor principals are very glad that we had decided to establish a base here to assist them with their  Infor LN clients as well as to implement in new client / industries.
TADE Infotech Inc. provides the following services, software Development, e-solutions Development, ERP Consultancy and Implementation, Customizations Database Outsourcing for Infor.
TADE Infotech services for INFOR Global Solutions customers cover:
By JoeFerro at 19 Dec 2012 - 16:27
AUTOFORM LaserNet lets Bray hit the ground running with their global Infor migration project
H
ouston, Texas, 19th December 2012 Bray International, the world's leading pump, valve and control experts, today went live with AUTOFORM LaserNet for their forms printing and emailing requirements, as part of their global system migration from MK to Infor LN.  
By JoeFerro at 18 Oct 2012 - 11:15



EFS Technology is pleased to invite all baanboard users to a webinar showcasing our Baan, ERP LN and Infor 10 integration for AutoFORM LaserNet on Thursday the 1st November, 2012 @ 10.30am GMT


You can register for our Webinar here


As a trusted global solution partner for Baan, ERP LN & Infor 10, our fully certified and integrated output and document management solutions have been used by over 1000 different organisations,
across 41 countries, to streamline business processes and reduce costs.


The benefits of choosing AutoFORM LaserNet:
Our flexible and powerful solution adapts as your company grows and your requirements change. Its modular design is based around three core technologies:


Output Management
In-house forms and label design control
Fast implementation: hours not days
Improve document presentation
Customise and personalise business forms

Languages and company identity

Universal integration with any ERP system and reports
Duplicate modifications outside of Baan, ERP LN & Infor 10
For example, extra information can be included into the standard report
Upgrades between versions become standard
By Jacoline at 8 Oct 2012 - 09:32
HiDOX now brings a new feature to market making printing from ERP to PDF easier as ever before!
With the so called Generic Device Printer (GENDEV) all native ERP output shows up in PDF without the need of any programming!
With the new GENDEV feature you can add different PDF background files or modify some basic layout settings like font size, left and header margins, line distance, portrait/landscape orientation, and different paper formats like A4 and LTR.
Interested? For more information or a short online demonstration please contact us! Tel. +31 343 43 2815 or info@hidox.nl
For already HiDOX FormDesigner customers: Just upgrade to the latest version (V3.2.3x).
The next HiDOX Webinars:
HiDOX Webinars:  How easy to print a ERP Report with GENDEV? Add different PDF background files and different layout settings to your existing and adjusted LN/Baan Reports with HiDOX GENDEV?
We present HiDOX GENDEV live with LN and/or Baan IV/V.
Next Webinars:
By tony cregg at 1 Sep 2012 - 14:16
There are over 50 million Microsoft® Excel users worldwide – odds are that your organisation is one of them, and with our help you can enhance your BAAN/Infor Ln reporting experience.
Our intuitive tools use Microsoft® Excel's familiar interface to allow users to access 'live' data throughout the organization, all while maintaining the ability to drill down to supporting details:
General Ledger| Integration | User Authorisations | Debtor/Creditor Analysis | Projects | Migration
….and much more!
By patvdv at 26 Mar 2012 - 10:57
Infor has recently released the ION Support Assistant (ISA). This tool is available, free of charge, for all customers with a maintenance contract and can be installed on your Baan4 and/or ERP LN system.
Get incidents resolved faster with the help of this automated tool, which gathers reliable and precise information about the setup of your Infor Software and the environment in which it is running. When you contact us with a new incident or question, the Infor Xtreme Support engineers can begin resolving the issue immediately because they will already be acquainted with your specific installation details like portingset, tools version, installed solutions etc.
The ION support assistant also enables Proactive Support.  This makes it possible for Infor to send the right message, to a targeted audience, at the right time. A few examples are: when there is a critical bug that only customers running a particular version of the software need to be notified of, or a timely notification when a Database Vendor stops supporting a certain version of their product to only those customers that are running on that database.
More information is available via the Infor Xtreme Portal.
The following Knowledgebase Articles provide further details about ISA.
By george7a at 7 Feb 2012 - 09:55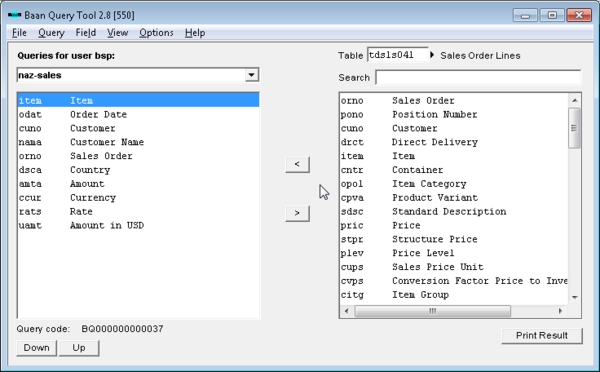 Baan Query Tool 2.8 Released - NAZDAQ

Easy and Quick to install
Friendly User Interface
Native to Baan. Quick, understands enumerated, arrays and text fields
Supports wide reports with more than 255 characters
Supports calculated fields and Group-by for subtotals
Runs on Desktop and WebTop
Obtain a 30 day fully operational demo today. Once you try it, you will wonder how you managed without it before!
NAZDAQ has also released a video presentation for Baan Query Tool:
By patvdv at 17 Jan 2012 - 07:33
High-end ERP documents, Microsoft integrated, document design and distribution, flexible, powerful, cost saving!
Unique 100% integration with ERP, irrespective of ERP versions, upgrades and service packs, ensuring no unnecessary programming
Fast: a completely laid-out usable document in just one day
Surprisingly simple in regard to implementation and use: installed within an hour. No expensive consultants in the company for weeks on end.
The next HiDOX Webinars:
HiDOX Webinars:  Why HiDOX FormDesigner?  How to build a Report from scratch? How to convert your existing and adjusted LN/Baan Reports to HiDOX FormDesigner?
We present HiDOX FormDesigner live in LN or Baan IV/V!
Next Webinars:
By Samantha Carter at 5 Dec 2011 - 07:29
Infor are actively recruiting new Channel Partners to join the Infor Partner Network.  To find out more visit :
By george7a at 18 May 2011 - 15:28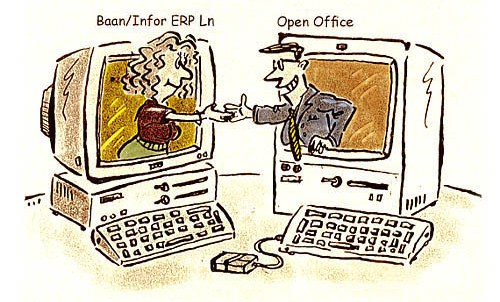 Do you wish to convert Baan/Infor ERP Ln reports to spreadsheets in Open Office? Or on a UNIX machine? Do you wish to run a cron job to reports in Excel format?
 
NAZDAQ now support converting reports to Open Office and creating Excel sheets (xls or xlsx files) on any machine, including UNIX and Linux, and even in a cron job!
The new features are now available in our products B2Email Plus (for interactive use) and B2Email Standard (for automatic use and jobs).
 
Additional features were added to these products. For more details, please check our web site at www.nazdaq-it.com